Can I walk with you?
Let's take this journey together
Be my somebody. I'll be your somebody too
When you think about it we're all walking alone …
Wandering this world trying to find a home
They say home is where the heart is and I'm trying to give my heart to you
At the end of these days it's you I want to come home to
No doubt the rain will fall may have to replace the roof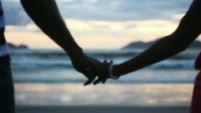 but our walls and base are solid let our babies be the proof.
All this world to see the ground that we could shake
you know I'm a little naughty … The rules that we could break.
And ease into old age on our front porch in our swing
enjoying the peace a love like ours is destined to bring.
And when the sun finally sets its with you I will have spent my last day
and I wouldn't have it any other way.
I guess I said all this really just to say …
Can I walk with you?