I have spent a considerable amount of my 20's intoxicated. I'd like to think that's normal… but either way I couldn't care less. This particular evening happened to fall right smack in the middle of my "Drink till you Drop Days." Not that drinking to oblivion is something a person should take pride in, but Hey I'm still here… so I couldn't have been THAT bad right? This is a time in my life when most of my interesting stories begin with… "So… I was drunk… and" or "So… I was drinking" this story is no different.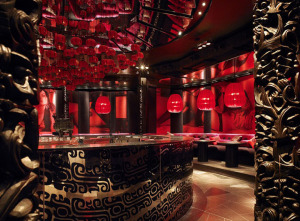 It's a cold winter night in Atlanta. It's rained all day, so the air smells fresh and the wind is a bit strong. One of those nights that demand you wear a coat. A night when most people would stay in the comforts of their warm house, unless it was absolutely necessary to leave. But tonight nothing will keep me from hitting the town. It's been a long stressful week and I deserve the release! I chose to unleash my fury on the infamous "Lucky Lounge". I've never been before and besides I'm newly single and ready to mingle. The night starts out like any other, over-crowded club, few drinks… and a little bit of tail-feather shaking. I excuse myself to the balcony to indulge myself in a Moore… the only thing that used to keep me sane and away from the porcelain while drinking. I spark up and start a conversation with a fellow Balcony Dweller. We refill our drinks and before I know it… we've been talking for an hour. I have NO idea what we talked about for over an hour… but it must have been good! Next thing I know, Her boyfriend has joined our conversation and he's refilling our drinks. We're sitting on one of those plush leather couches with the big pillows facing the busy streets of downtown Atlanta. She's on my right chatting and every so often, she playfully places her hand on my thigh. Now at the time I had no idea she was coming on to me. I didn't even really realize how square I was until I began reminiscing on this night. Now her boyfriend is to the left of me, watching…. Waiting. He occasionally pretends the music is too loud and starts to whisper in my ear. Making sure he nibbles a piece of my neck each time he departs from his devious attempts at seduction. All of a sudden, it's not so cold outside. As a matter-of-fact, it's feeling a bit steamy on this Balcony. I want to run, but I can't. My curiosity won't let me move a muscle. I'm paralyzed by the thoughts of "what's next?"
So I'm drunk and I 'm sitting on the balcony of this club. I'm wedged between the desires of a Man to see his Woman with another Woman and the yearning of a Woman who wants to taste my sweet spot. ME…. a square little sexually in-experienced prude left to make THIS decision. And this couple has invited me back to their house! No way in the world do I even posses the… BALLS necessary to go through with it. I politely decline, but these people are persistent. This woman begins to tell me how she can change my world with her lips and expand my horizons with her tongue. All while her boyfriend has taken the liberty of "warming me up". He's nibbling on my ears and kissing on my neck. I'm starting to squirm. My feet are crossed and locked in a feeble attempt to keep my legs closed as tight as possible. I can feel the heat radiating from between my thighs. I feel like my insides may combust if I don't let some cool air in. I'm afraid that I may come bust right here on this leather couch, if I don't keep it together (literally). But resistance is futile. My legs begin to part and her hand finds its way to the heat between my legs. She's caressing me so smoothly through my apparently thin leggings. I feel like she's touching me, finding my essence. All of this teasing is literally driving me insane. I keep telling myself to run but my body won't cooperate. She reaches her hand into my leggings and she finds what I've been fighting to hide. My pool of excitement. She takes her time, like she trying to commit the route to memory. I'm ashamed and excited all at the same time. I can't believe a Woman is giving me this much pleasure and I'm allowing her to. Her man is whispering how sexy I am and how he can't wait to get me home. She's exciting herself by pleasuring me. And I just remember staring out into this city that had stolen my heart from the moment we met, thinking THIS is where people re-invent themselves. I want to let her take me there. I want to give in to my apprehensions and let her give me the release that my body seems to be demanding. I want to pretend that social stigmata don't exist. I hope that I'm the type of person that seizes the moment and indulges themselves in all types of pleasurable acts. I don't want to wonder anymore if Women really do it better….. I want to know. I want to watch the mist fall over the city I love while my body spasms from an unexpected orgasm and rains in pleasure. But I'm not yet that free and I can't do those things. And in an instant everything turns cold again and my fire dies. All my desire dissipates and all I'm left with is shame. Decision made… motor skills returned. I collect myself and begin to walk away. Before I could complete the "walk of shame" I turn back for one more glance at what could have been… if only I were someone else. My temptress places her fingers into her lover's mouth and they begin kissing. The only concise thought I can put together is… I need another drink.