What a beautiful disaster you and me …
Angst and pleasure. The tangled web we weave.
A masterpiece of deceit.
The lies we tell ourselves in order to believe
They say be careful what you ask for because you just might get it
I was asking for the pleasure and in the pain I found it
now I'm addicted like a masochist…
Each kiss deeper in distress.
I'm drowning somebody help me but not too quickly
the love is all I know it's sustaining and killing me.
The blessing and the curse.
The chapter and the verse …
Proverbs of lessons learned but not adapted.
Psalms of unrequited love redacted.
Artistic creations of memories crafted from the good
a wounded warrior whose eyes haven't forgotten the bad but should …
A chronic disease.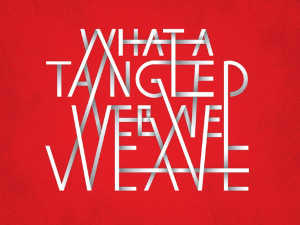 Indecisiveness tears us apart a prayer for both death & reprieve
The very thing I love is killing me. So softly it's bittersweet
a test of endurance I'm no longer sure I'll meet.
Feelings fade and fires die,
the skies crack open from the battle cry.
Lay down my pen lay down my sword
nothing left to defend or record.
What was, no longer Is with no possibility to be.
Yesterday day is but a memory … The last for us to keep.
When the sun rises we will cease to be
all that will remain is the tangled web we weave.