…… The lights are still on. I pass the exotic cigar to my left. She nervously accepts. As she inhales I can see her asking herself silently "what did I just get myself into?" She holds her breath almost as an attempt to stop time itself… maybe to build up her confidence. She then invites him into our session and he inhales with all of his might… in his eyes there is more. He looks nervous but the excitement shines through. His eyes tell all the erotic thoughts running through his mind…
There they sit on my bed … me in a chair less than 2 feet away. I have butterflies in my stomach; my palms are a bit sweaty. I'm slightly nervous… but not for the same reasons as them. I can't help but smile as I think to myself "You really pulled it off!" I whisper to myself "I'm a Boss". See these two have agreed to allow me to watch them engage in the carnal ravaging of each other. Yes, I am going to sit here in my chair and watch them have sex. (ooooooooooooh I'm a Freak…. Welp it is what it is) I figure porn is great right? So LIVE Porn as got to be better.
I step out for a moment; Allowing them some time to get comfortable. And I head to the kitchen to pour up some liquid courage for us all. When I return their body language lets me know that they have come to peace with the decision they've made.  I turn off the lights, sit down, take a sip of my drink and inhale my Herbal Tonic as I prepare for the show of a lifetime.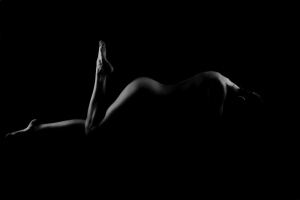 He lays her down and begins kissing down her body until he reaches her sweet spot. There he sets up camp. Ravaging her like a starving child. At first I can tell she's afraid to moan or make any noise for that matter…. That soon changes. The subtle moans begin to escape her lips without her permission. Her body refuses to deny that it is in extreme pleasure. He almost spends so much time down there that I lose interest. Just before my attention span collapses he wraps up and plunges his manhood into her cavern. She yelps like a wounded animal. He begins giving her every inch of him all while staring at me. The sight of him emulating on her body what he wishes he could be doing to me nearly causes me to orgasm without a touch. I chuckle to myself. He's been trying nearly a year to lay his pipe in my factory… but I have zero interest. He KNOWS this is the closest he will get … and he accepts this. He flips her over without warning and enters her from behind. I can hear his body slapping violently into hers. Her small frame is strained by the massiveness of him. He rides her from behind until he collapses in defeat… he is tired yet he does not climax. He asks for a drink and I oblige. The closer I get to the bed I can begin to smell the sex circling around them. She's sprawled out panting as if she thinks each breath will be her last. He passes her the courage and as she catches her breath… I declare…. I think you should eat me out….
"Who" they ask in Unison? My reply is simple "You can take turns."  He wants to be first. He lays down on the bed and motions me to mount his face. I do as instructed. I begin slowly riding his face like a calm wave. She arrives behind me and takes his manhood into her mouth, determined not to be left out.  His body spasms from the pleasure and his tongue goes into overdrive. Now I'm bucking as if riding a wild bull. I can hear his moans muffled between my legs. I realize he may be suffocating so I digress.  He rolls me over, gets up and enters her from behind… "Your turn" he commands. He stands by the bed, her on her knees on the bed… face in my sweet spot. He licks his lips as he watches her indulge in my candy. Connecting with her yet never taking his eyes off of me. I can tell she's done this before, her technique impeccable. It is not long before a small orgasm erupts from my loins. That is enough for me. I politely get up and return to my chair… "Ya'll can finish"