Everyday I see Him standing there
With his Chocolate self
I imagine he smells like Cocoa Butter and Ganja
He looks like his skin has been kissed by the sun
His smile brightens my eyes
Makes me moist Between my thighs
I fall into a daydream….
In this daydream we fuck until day becomes night
I find my climax upon his peak
Later I will brag to my friends that I set out to conquer Mt. Rushmore but instead it conquered me
I fantasize about licking him from his lips to his tip
I feel him swell in excitement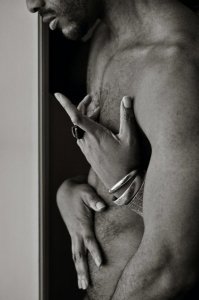 He is made comfortable in the warmth between my lips
Time has no authority in this prison of lust I have created in my mind
My creativity the warden every prisoner bending to my command
My prison has no bars and within its confines we are ironically free
I can will myself to do things I only secretly dream
I order him to his knees and mount his face
I'm riding his tongue and I grab his dreads hoping they guide me through this race
I can feel myself climbing … Brimming to the surface with pleasure
Rhythm is found and Beat is on it's way
It's almost time for my solo
I dig inside for all I've been holding back
I part my lips to release….
Let out my notes of sweet surrender…..
And…. The damn phone rings.
I open my eyes…
I'm at my desk…
Awoken from daydream turned wet dream…
"Thank You for holding…             How may I help you?"