Reverie
Slow, tingling drip. I feel it slide warm and wet down my inner thigh. I catch it on my fingertips and lick every drop. The sensation heightens all of my senses and I inhale. I am thinking about her again…
A fire burns in the hearth..a flame flickers between my legs as I reflect on how her mouth felt closed around my nipple. My fingers find that same flesh and squeeze. Electricity races thru my body unchecked. My back arches just slightly and I exhale…
A memory taps the edges of my consciousness and my skin awakens. A kiss at the hollow of my throat. Another above my navel..another on my clit. I remember the way I gasped..drew in breath so sharply I almost saw stars. A single curl of her tongue around my clit and the moans were uncontrollable. A little lower, baby…please..please..a little lower. And that's when I felt her lips, hot and wet, closing around my aching core..body so wet it was impossible for her to taste it all..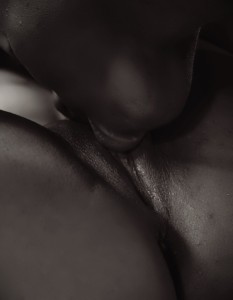 Surrender was immediate and all consuming. I opened for her as wide as I could..and then she opened me wider still. I felt her tongue slide deep into me and all other thoughts I had went black. I gripped the sheets for dear life and twisted the other hand into her hair. Just as I was on the brink of explosion she stopped. And I couldn't control the withering desperation in the way I cried out. But she wasn't done. One finger penetrated slowly..then two..and then three. Every nerve ending in my body screamed in pleasure as her mouth worked my clit like life itself depended on it. Tongue..fingers..moving in chaotic symmetry, frantic syncopation. I could feel it building. Cresting. And I came so hard I had to bear down on it and fight to keep my sanity. It didn't work. I lost time. I lost sense. I lost my grip on reality. But calm descended only for me to realize..she was not done..
Crackling of a dying blaze brings me back..fingers still wet with memories. Pussy still dripping..breathing still erratic..mind still spinning..body blooming with self-indulgent oceans. But the only cure for ecstasy is exhaustion. And so the reverie grips me once again..
I run my fingers over the harness at her waist and my body contracts in deep anticipation. It is not like me to crave penetration but crave it, I do. The size of it is intimidating but I want it..badly. I suckle the tip of it and she moans and pushes it against my lips. I take more of her in my mouth and her breathing gets husky. She wants to fuck me. I want to let her. She lays back on the bed and I straddle her. I look into her eyes as I slide down slowly, inch by achingly delicious inch. Pain mixes with pleasure. The strap is too big to take. I want it anyway. So I take every single fucking inch even though it hurts. It hurts so sensuously. I am so completely filled but I want her to go deeper. I lean forward and spread myself open. She grabs my waist and thrusts harshly, quickly, with a soul blistering rhythm. The headboard cracks against the wall and the sound excites me. I meet her rhythm with force and the agony of cresting ecstasy begins to build again. But this is not how I want to cum..
On my hands and knees, face down in the pillows, I want her to absolutely fill me to the brim. I feel her small hands at the base of my spine. I feel the tip pushing against me, begging for entry. So..wet. A whimper escapes my throat and that is her cue. She slides in, slow at first. But halfway in she thrusts..and I feel her hips touch my thighs. This is the deepest anyone has ever been and I love the submission. She fucks me harder than either of us anticipated and nothing else but sensation matters anymore. The fingers of her right hand reach around and stroke my clit and that damn near makes me erupt on the spot. But I feel the fingers of her left hand wrap firmly around my throat and she whispers two words into my ear.."Right. Now." And with her deep inside of me I came with such force that the ringing in my ears rendered me deaf for a moment and my mind clouded so intensely I could not think about anything but the devastating strength of the orgasm. My body gripped her so tight that it took at least a full two minutes for my muscles to relax and release her. But the moment she slid out of me I came again, damn near as hard as the first time. When the crashing finally eased and our breathing finally slowed we both just collapsed..exhausted..cured..
The last embers are the only thing left aglow. Vibrations ebbing and flowing. My body is drained. The high is coming down. The fantasy is losing its breath to the coming dawn. Hopefully sunset won't take too long…